Tobin James Cellars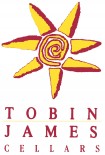 8950 Union Road
Paso Robles, CA 93446
directions »
Phone 805-239-2204
Fax 805-239-4471
Located eight miles east of Paso Robles on Highway 46, Tobin James Cellars sits among 71 acres of vineyards and oak dotted hills. Built from the ground up on the site of the old "10-mile Stagecoach Stop," our old-fashioned western-style tasting room saloon embraces the rough and rugged frontier history of Paso Robles, California.
In fact, the first thing you'll see as you stroll into the bustling tasting room is our grand antique 1860's Brunswick mahogany bar from Blue Eye, Missouri. Just place your booted foot on the brass rail of the bar and sample our exciting lineup of wines. Our incredible staff will guide you through our enticing selection.
Over the years, we've added two additional custom-made bars to our tasting room and our artisan grotto. Our grotto features an Italian pizza oven, which is a hit at our parties. Bring a picnic and share a bottle of wine in our imaginative paradise.
Come visit Tobin James Cellars for a truly authentic (and fun!) Paso Robles wine tasting experience. Find out why it's all true!
---
Varieties Grown
Barbera, Cabernet Franc, Cabernet Sauvignon, Chardonnay, Grenache, Malbec, Merlot, Mourvedre, Nebbiolo, Petit Verdot, Petite Sirah, Pinot Noir, Primitivo, Riesling, Sangiovese, Sauvignon Blanc, Syrah, Tempranillo, Tinta Cao, Zinfandel
---
Additional Information
Gift Shop
Group tasting available
Picnic Area
Selection of California Farmstead Cheeses
Tasting Room Hours
10am-6pm Daily - with Reservations
---
Wines Produced
Barbera
Cabernet Franc
Cabernet Sauvignon
Chardonnay
Grenache
Late Harvest Zinfandel
Malbec
Meritage
Merlot
Mourvedre
Muscat Canelli
Nebbiolo
Petit Verdot
Petite Sirah
Pinot Grigio
Pinot Noir
Port
Primitivo
Red Blends
Red Dessert Wine
Riesling
Rosé of Syrah
Sangiovese
Sauvignon Blanc
Sparkling Wine
Syrah
Tannat
Tempranillo
Zinfandel
Zinfandel Port

Photos